Garden Cottages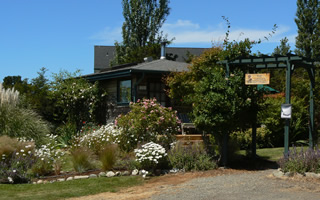 Two guest cottages located conveniently in the heart of Lopez Village near shopping, restaurants and recreation, offer relaxing guest house accomodations sharing a beautifully landscaped garden patio. Enjoy the peek-a-boo views of the Straits and lovely view of the Olympic Mountains. The sunny courtyard is perfect for sunbathing while listening to the soothing sound of the fountain and watching the goldfish in their pond.
Each cottage features a queen sized bed, a new kitchen, and a cozy woodstove. Now: free wi-fi. The cottages are an ideal starting point for exploring the island and are close to bicycle or kayak rental facilities.
We are listed #5 in Top Beds of 2010 (by Sue Frause, travel journalist, in the Huffington Post). The readers ranked us #3!
Rates:
Garden Cottages
$160/night for 2 people
$25/night for each additional person,
including children
$35 pet fee
Winter rates: 2 nights for the price of one
(not including holidays or Tour De Lopez)
Read a review by happy visitors: Click here