Bay House #1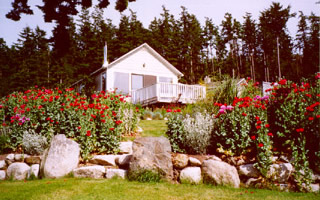 The original Bay House, located on magnificent Fisherman Bay, has unmatched marine views across Fisherman Bay toward San Juan Island and northward towards "Lopez Village." Sunsets reflected in the water are spectacular - don't forget to pack your camera !
The house features 2 bedrooms and a hide-a-bed, fully equipped kitchen, stone fireplace, stereo with a CD collection and TV\VCR. Now: free wi-fi. The front deck, with an umbrella table, makes a perfect place for dining, playing games or just enjoying the ocean views. The house is nestled in a beautiful landscaped setting.
Rates:
Bay House #1
$225/night for 2 people
$25/night for each additional person,
including children
$35 pet fee

Winter rates: 2 nights for the price of one
(not including holidays or Tour De Lopez)
Bay House #2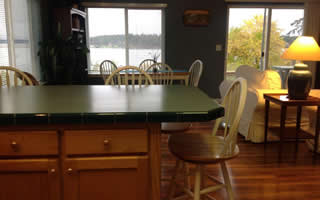 Bay House #2 has the same great views from all the windows and the same lovely shared yard.  It is larger, with an open floor plan for the living room, and larger kitchen and dining rooms. It has 2 bedrooms with queen sized beds and also 2 bathrooms. There is a dishwasher, washer/dryer , Satellite TV, free wi-fi and lots of other amenities as well as beautiful landscaping.
Rates:
Bay House #2
$225/night for 2 people
$25/night for each additional person,
including children
$35 pet fee
Winter rates: 2 nights for the price of one
(not including holidays or Tour De Lopez)